Bellevue Cabinetry & Interiors creates spaces that enhance the way you live. We begin by exploring your personal style, your design requirements, and lifestyle in order to gain a thorough understanding of how to best design your space with beauty and functionality in mind. We carefully consider everything from architectural elements, lighting, efficiency, individual taste, and of course the views. It's our attention to these details that help set us apart.
With all our residential projects - from traditional kitchens to modern spaces – our clients are always at the centre of our design process. We design with you and for you. Our goal is to create the room you've always dreamed of.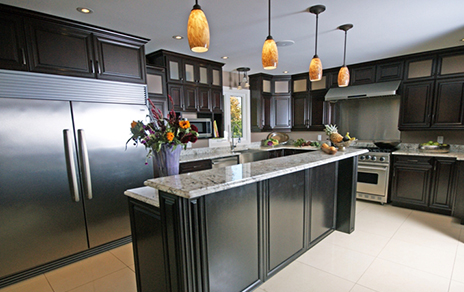 Kitchens
The Kitchen is a space where we all spend time on a daily basis. How you use your kitchen, from preparing family meals, to entertaining, to using them as a vital hub for gathering, will influence the design layout and function of your space. In planning your kitchen design, Bellevue Cabinetry & Interiors understands that the kitchen needs to be functional, comfortable and inviting. We pride ourselves in producing fine kitchen cabinetry with quality craftsmanship. We offer a variety of door styles, finishes, and wood species to appeal to all tastes from traditional, transitional, to modern. Please view our portfolio for inspirational ideas.
Home Renovations
Bellevue Cabinetry & Interiors has more than 28 years of experience in home renovations and remodeling projects in the Sault Ste. Marie area. Our team of professionals and trades can take care of all aspects of your home renovations saving your considerable time and hassle, from kitchens, to bathrooms, to living spaces. Your home is in good hands from start to finish. We invite you to visit our portfolio to see examples of our completed renovation projects.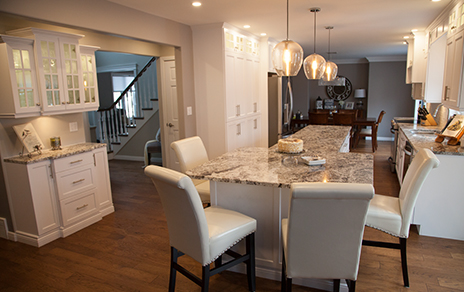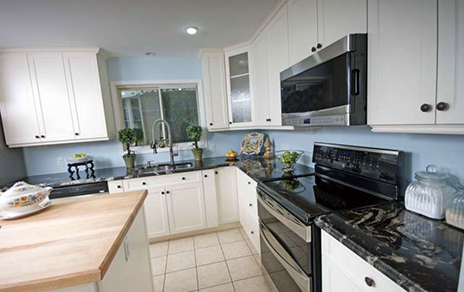 Cabinet Re-Facing
Need an update? Love your kitchen lay-out, but want a more modern look? Why not consider a Cabinet Re-facing project for your makeover. This is ideal for the homeowner who is looking to make some small but effective changes, without the cost or inconvenience of a total kitchen remodel. We have a wide variety of door styles and colours to choose from. Perhaps adding a new counter-top, hardware, or backsplash tiles, and "voila" you have a " new kitchen". Please see our product line and door styles for ideas.
Cabinet and Furniture Refinishing
Sometimes all you need is a small change to bring new life to your existing kitchen or furniture piece. Perhaps a new colour would make all the difference, without breaking the piggy bank. Bellevue Cabinetry & Interiors is equipped with a professional spray booth for the refinishing and painting of cabinets and furniture pieces. In painting, you can pick any colour under the rainbow… just leave it to your imagination. Contact us to find out more on how to create a new look.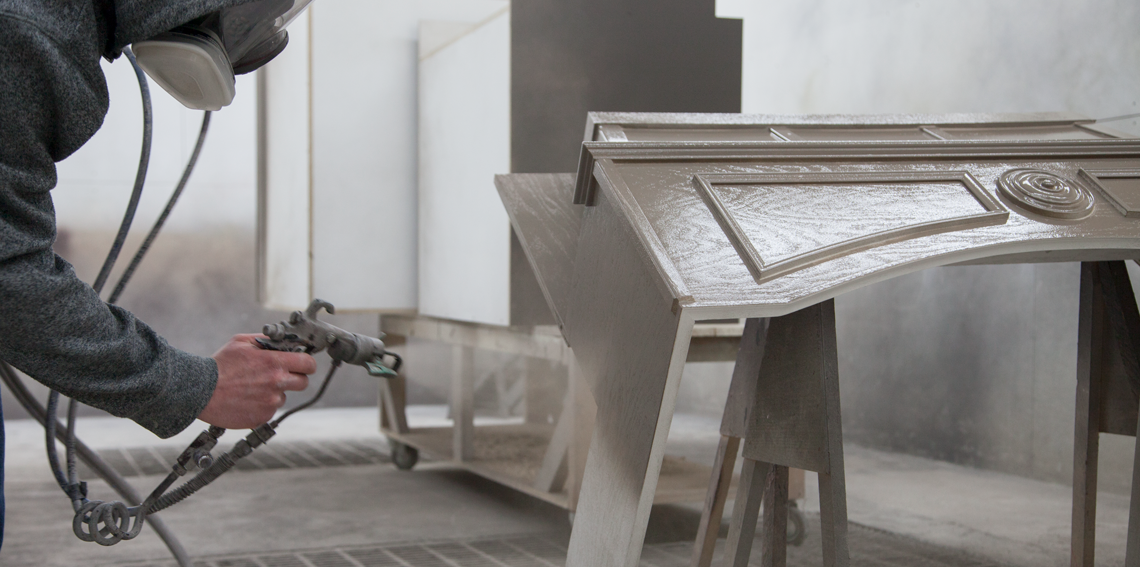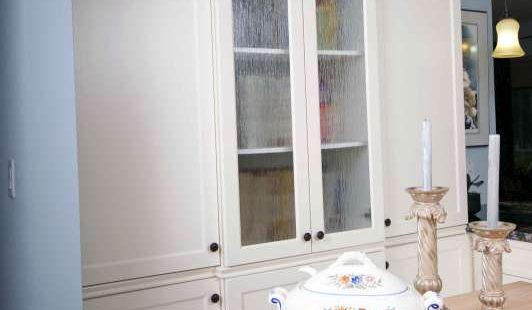 Custom Closets and Cabinetry
Who doesn't dream of a more organized closet or living space? Our design team is ready to meet with you to address all of your storage needs while planning for your new closet space, home library, bathroom retreat, entertainment centre, laundry room, or office. Designs are prepared, incorporating storage solutions, functionality and style. We also build custom cabinets for wine rooms, home bars, beverage centres, or Butler's Pantry.
Interior Decorating & Design Services
Whether you require a full interior design for your new home construction, new Kitchen or home renovation project, or just some fresh decorating ideas for a simple change to your living space, Bellevue Cabinetry & Interiors offers Design and Interior Decorating services for their clients. Our design team works with you to create inspirational interiors that enhance your property and reflect your unique taste and lifestyle. We can assist with the selection of cabinetry style, flooring, countertops, backsplash tiles, lighting, fixtures, and hardware.
We also assist with developing complete decorating plans, furniture plans, colour scheme selection, accessorizing, staging, visual coordination, space clearing and home healing, all while taking into consideration your own personal style and preferences.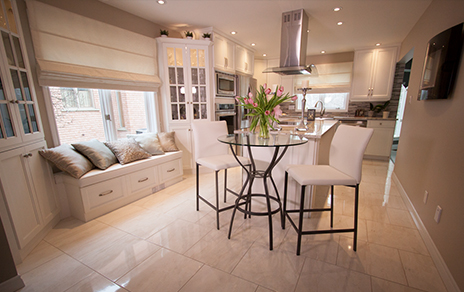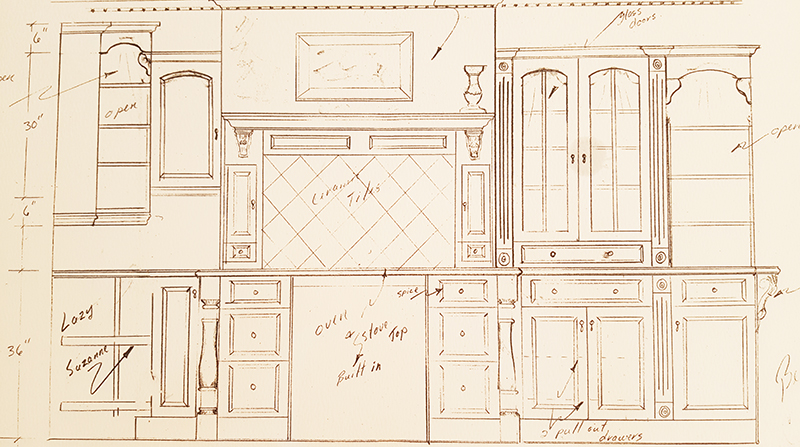 Decorating Plans
Decorating plans are developed for living spaces while keeping in mind existing furniture pieces you may want to reuse for the space, or introducing new furniture for your furniture plan. A decorating plans incorporates wall colour selection, and the development of a colour scheme, fabric selection, flooring selection, lighting, window treatments, artwork, accessories, and style and theme for the space. If you are looking at changing your room, or creating a new space, developing a decorating plan is an integral part of the process, and in determining a budget and timeline for your project.
Staging
Thinking of selling your home? Need to spruce things up a bit to show your home's best features? Bellevue Cabinetry & Interiors' staging solutions are tremendously helpful in getting you started on the path to selling your home, for its best price. We design spaces to be lived in without feeling staged. Ginette Breton, Interior Decorator, has worked on numerous projects, in collaboration with Sault Ste. Marie's Our Homes Magazine in the staging of homes for the magazine. Her experience in this field has assisted many homeowners in showcasing their homes. Call today to set an appointment for a consultation.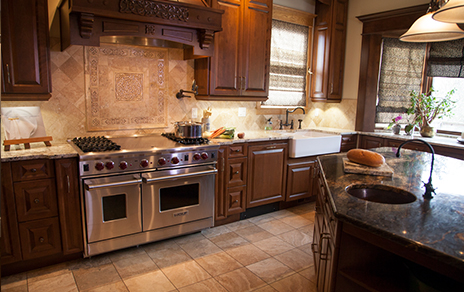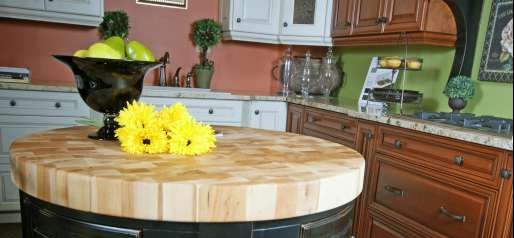 Visual Coordination
Need a change, but want to work with the furniture pieces and accessories you already have? A consultation for a visual coordination would provide you with a new look simply by reworking your furniture plan, and rearranging the accessories you already have, and perhaps introducing a few new items. It is surprising how simply moving things around can change the energy in your space and freshen the look.
Space Clearing
Are you considering downsizing, or simplifying your life? Is it time to get rid of the clutter so you can create a beautiful room or space for yourself or family? Space clearing allows you to create change by keeping the essentials, and clearing away the rest. Perhaps your room needs breathing room to enhance its style and personality. Perhaps your move to a new condo or smaller home can only fit so many furniture pieces. An Interior Decorator can assist you in making the right choices, while keeping function and beauty in mind.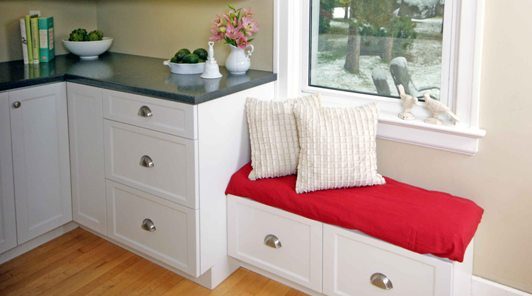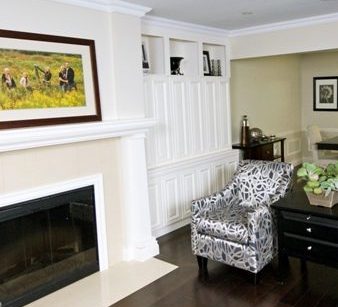 Home Healing
Have you ever gone into a home or room and just felt a weight in the space? This may be because disharmonious energy was being held there.
On the other hand, have you ever gone into a home or room and felt at such peace, light, and immediately comfortable? This is because this room was holding on to harmonious energy, and had possibly been deliberately filled with love and light by the people who dwell there.
All spaces hold energy which can either be a "positive" energy or a "negative" energy. Holding negative energy in your space adds difficulty to your own ability to letting go of a bad mood and shifting your energy.
Inside of a home or space with poor energy flow, that has never or rarely had its space cleared, contains disharmonious energies that can build up and become stored in the space. When people enter the space, they can start to feel grumpy or anxious and go on to release even more negative energies which get stored by the space. It becomes a vicious cycle! When you use Reiki to clear or heal your home, it can help to foster a sense of love and peace, as well as support your health, and the health of your loved ones, on every level.