Are you starting a new business, freshening up an existing commercial or office space, or planning on an expansion for your current business or building? Bellevue Cabinetry & Interiors has a solid reputation for providing top quality commercial remodeling services in the Sault Ste. Marie area. We understand how busy owners are in managing their business' day to day operations.
In planning, designing and completing the renovations for your commercial project, Bellevue Cabinetry & Interiors follows the same process as if they were meeting with individual homeowners. Taking the care and time required to consult, and assess the needs for your business renovation project, all while keeping your clientele in mind. Complete design plans are developed, along with proposal, written estimate for projected costs, and expected timelines. Any work requiring the manufacturing of cabinetry, custom trim work, or service counters are all prebuilt in our shop, prior to commencing the renovation aspect of the project. During the renovation stage, all of our projects are supervised and executed by our experienced professionals. Our highly skilled and dedicated team work quickly and efficiently to ensure minimum disruption to the working or business environment while staying within the time constraints. Some of our other commercial projects include renovations to retail storefronts, and millwork for institutions.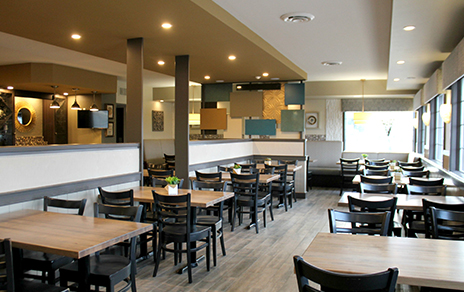 Restaurant Makeovers
The making of a successful restaurant takes a combination of great food and menu, right location, excellent service and hospitality, and of course ambiance and style. Our signature designs will help attract new and repeat customers to your establishment. Having the right concept to improve your guest experience, and appeal to your clientele is high on our list in developing our designs. We pay attention to all the details to revitalize your space and create the upmost restaurant makeover. Careful thought and planning go into creating a unique and exciting atmosphere for your restaurant. The rest is up to you. Some of our recent projects have included renovations to Sandro's Family Restaurant, and Giovanni's Italian Restaurant.
Rental Properties and Condominiums
Bellevue Cabinetry & Interiors quality services can help increase your rental property or condominiums appeal to prospective tenants and home-buyers with upgrades to cabinetry, flooring, counter-tops, bathrooms, painting, and trim work. This in turn can increase the rental return in the process. We also manufacture kitchens and vanities for new apartment buildings, condominium complexes, or housing projects. Some of recent projects have included the replacement of kitchen units for La Chaumiere Housing, and Brockwell Chambers.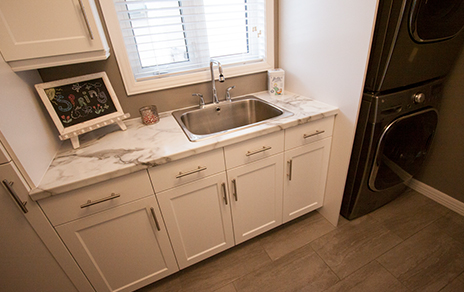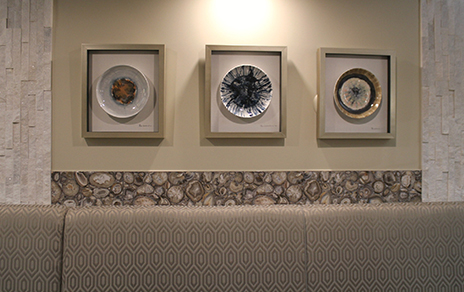 Professional and Business Offices
We create beautiful and thriving workspaces for professional offices in the Sault Ste. Marie area. From dental offices, lawyer's offices, insurance agencies, car dealerships, corporate and real estate offices, and businesses. We take great care to work quickly and efficiently to ensure minimum disruption to the working or business environment while staying within the time constraints. Our designs take your goals and needs into consideration to develop just the right atmosphere and image for your business or office. Some of our recent projects have included renovations for Clarica Life Insurance, Algoma Power Corporate offices, Toyota Dealership, and other local business and offices, such as The Speech Path.
Interior Design Services
In developing a design for a commercial or business office space or storefront, Ginette Breton works with the business owner in determining the overall goal for the improvements or new space. She offers a complete set of design services, ranging from furniture placement and space planning, lighting plans, colour consultations, and theme development. Ginette is an experienced and highly regarded interior decorator who offers comprehensive and personalized designs for her clients.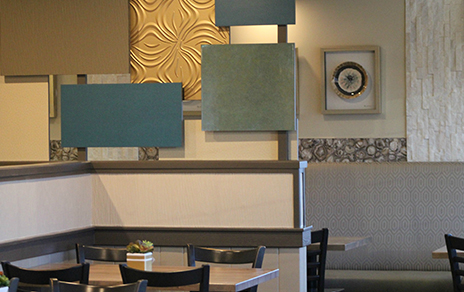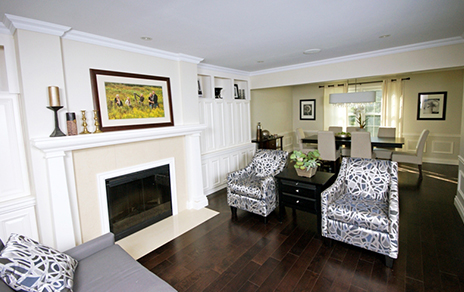 Staging
Bellevue Cabinetry & Interiors offers the services of staging to property owners, real estate agents, and property developers to help showcase their buildings, or real estate to prospective buyers or tenants. Showcasing a space properly can help achieve higher sale prices and quicker closes. A buyer likes to identify with the total package, and to imagine themselves in the new condo, or living space, and the lifestyle that goes with it. We'll help transform your property with fantastic design style ideas that are new and fresh without feeling staged.